San Diego Civic Theatre | San Diego, California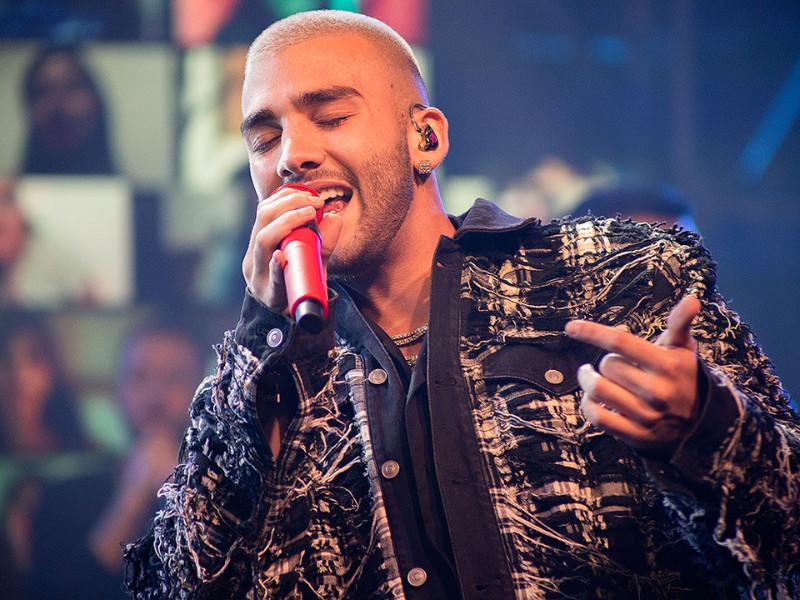 This October 27, next-generation Colombian icon Manuel Turizo will stun the San Diego Civic Center crowd with his latest genre-exploring tunes! The 2000 tour will promote the artist's third album of the same name, which launched last March to widespread acclaim. From the groovy "No Te Sientes Igual" to the sexy reggaeton of "Éxtasis," the live concert will showcase pure artistic creativity as interpreted by our headliner. While recently popular from his five-time Billboard-topper "La Bachata," Manuel Turizo also enjoys multi-platinum certifications across his three-album discography. And despite his youth, he has already earned the admiration of many music stars, including Shakira and Coldplay's Chris Martin. Turizo's US stint will visit 14 cities, with a one-night stop here at the San Diego Civic Theatre California. Immersive lighting. Balanced acoustics. And an elegant stage. Score some seats for Manuel Turizo's LIVE concert by clicking the "Get Tickets" button!
The hottest new phenomenon who has been setting Latin America ablaze is taking his talents to us! Manuel Turizo extends his 2000 Tour to the US and Canada with 14 city stops, one scheduled for October 27 at the San Diego Civic Theatre. The concert series will support his latest album, which itself features much-awaited collaborations with Marshmello, Beéle, and María Becerra. Criss-crossing different genres, the project also showcases a limitless Manuel Turizo with sonically diverse tracks such as the soulful lamentation "Vacío" and the rock-infused Mexican ranchera "Despecho."
2000 COMPLETE TRACK LISTING
No Te Sientes Igual
Triste
El Merengue
Jamaica
U Lala
Verte de Nuevo
Guayabo
Inténtalo
La Bachata
Vacío
Despecho
Éxtasis
Te Olvido
De 100 a 0
De 100 a 0 (Arles & Dann Remix)
"There's still so much I want to do. I want to keep making music. I want to keep connecting with people. I want to keep creating memorable songs for my fans. Each day, I want to continue growing. That's what I hope for," Turizo shares in an earlier statement with MTV.
Not one to settle for a singular label, our headlining act takes inspiration from various flavors like salsa, R&B, reggaeton, and vallenato. This stylistic versatility has scored him guest appearances in projects involving modern legends such as Coldplay and the "Queen of Latin Music" herself, Shakira.
At the surprisingly young age of 23, Manuel Turizo already has a clear path to superstardom. His breakout single, "Una Lady Como Tú," was released in 2016 and swept the states as an 8x RIAA-certified platinum hit. But if that wasn't telling enough of the singer's appeal, just last year, he dropped "La Bachata." This musical juggernaut clinched the No. 1 spot in FIVE separate Billboard charts, including the US Latin Airplay and Argentina Hot 100, not to mention double diamond status in Mexico and Chile.
The San Diego Civic Theatre will host the rising Colombian star during his tour's pit stop here in California. An esteemed venue for the performing arts, the indoor theater can comfortably seat 3,000 patrons. It also features an immaculate stage guaranteed to make the performance pop up in the most jaw-dropping way you've ever seen. Are you sold? If so, book your tickets now for Manuel Turizo's 2000 concert LIVE on Friday, October 27, 2023!