San Diego Civic Theatre | San Diego, CA
Iconic rock star Lenny Kravitz comes to San Diego Civic Theatre on Friday 20th September 2019 on his Raise Vibration tour! The tour, which has been extended, supports last year's eleventh studio album of the same name, which hit the top five in several countries around the world and launched the singles "It's Enough!", "Low", "5 More Days 'Til Summer" and "Johnny Cash"! Expect an electric night of rock and roll from this legendary performer!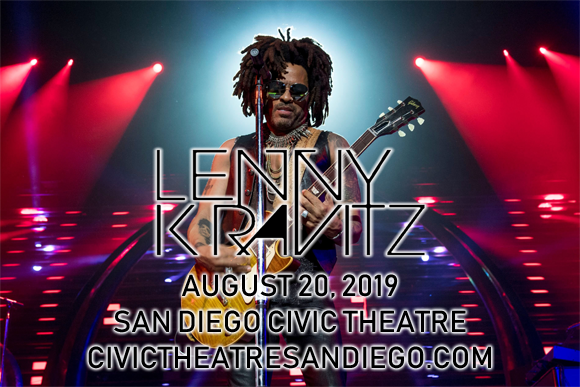 After initially struggling to find support from the music industry, American singer, songwriter, actor and record producer Lenny Kravitz began his career in 1989 when he was signed to Virgin Records after a bidding war with Warner Bros, Elektra, Geffen and Capitol. He released his debut album, Let Love Rule, the same year, but it was 1991's Mama Said that brought him mainstream fame, with the help of his global hit single "It Ain't Over 'til It's Over". His 1993 follow-up, Are You Gonna Go My Way, was even more popular, reaching number-one in the UK and Australia, as well as the top 20 in the US, and launching its lead single of the same name, which became an international hit. Kravitz broke and set records by winning the Grammy Award for Best Male Rock Vocal Performance four years in a row, between 1999 and 2002. His eleventh, and most recent, studio album is 2018's Raise Vibration.